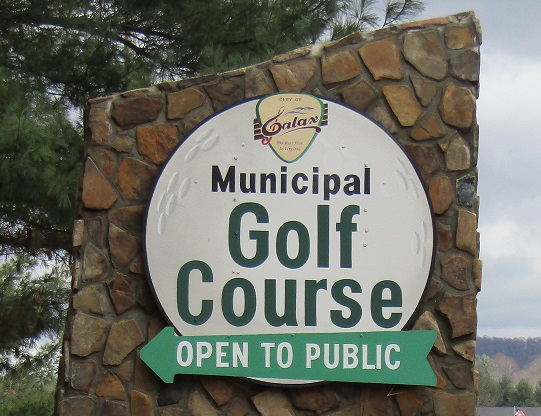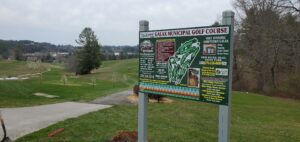 The weather is warming up so get out those clubs and get in a few rounds at the Galax Municipal Golf Course.  Season passes are now available and they run one year from the date of purchase.  Book your upcoming event at the clubhouse banquet room.

Municipal Golf Course
107 Country Club Lane
65 Acre Facility
9-Hole Course
20 Gas Powered Golf Cars
Banquet Room Facilities
BANQUET AND CONFERENCE ROOMS TO RENT
If you are looking to book a wedding reception, class or family reunion, give us a call for rates on our banquet room.  Call 236-3218 or 236-2641 for more information.  The Galax Recreation Center ~ Galax Municipal Golf Course is your most affordable option
       
Golf Rules & Regulations
Only two riders on golf cart. Drive safely.  Keep feet inside cart at all times.
A valid driver's license is required to operate a cart.
Proper golf attire required.
Singles, twosomes must be paired on busy days.
Group will be alternated after nine (9) holes with groups going off #1 tee.
Slower groups shall allow faster groups to play through
No alcoholic beverages allowed on course.
No mulligans off #1 tee Saturday – Sunday or Holidays.
Limit time looking for balls. Five (5) minutes, PLEASE.
Keep cart off tee boxes and 20 feet from all greens.
Replace all divots, rake sand traps and repair ball marks on greens.
The golf course management reserves the right to close the course due to inclement weather to help protect the course from damage.
Please call ahead during periods of inclement weather.
Call the Pro-Shop at 236-2641 for upcoming events.


Special Days and Leagues
Monday
Senior Day
Age 60 and older get $1.00 off green fees.
Time: All Day
Tuesday
Youth Day
Age 15 and under get $1.00 off green fees
Wednesday
Senior Men's League
Time: 9:00AM
Senior league members get $1.00 off green fee.
Call Steve at the Pro-Shop (236-2641) to sign up
Thursday
Ladies Day
Ladies get $1.00 off green fees.
RATES 
Green Fees
Monday – Friday
$6.00 for 9 holes or $8.00 for 18 holes
Saturdays, Sundays, & Holidays
$7.00 for 9 holes or $9.00 for 18 holes
*Cart Fee per 9 holes
$6.00
*Rider on Cart per 9 holes
$5.00
Special Green Fees ~ Seniors 55 & over  (Monday -Sunday)
$5.00 all day
Special Green Fees ~ Juniors 15 & under (Monday- Sunday)
$5.00 all day

SEASON PASSES:
ALL SEASON PASSES RUN ONE YEAR FROM DATE OF PURCHASE
| | |
| --- | --- |
| Adult Individual (age 16 & up) | $225.00 |
| Adult Couple | $250.00 |
| Family Pass (in same household) | $300.00 |
| Senior Individual (55 & up) | $150.00 |
| Senior Couple | $225.00 |
| Juniors (age 15 & under) | $75.00 |
| Cart Fee per 9 holes | $6.00 |

Galax Municipal Gold Course Hours of Operation:
| | |
| --- | --- |
| January | 10:00 am-4:00 pm |
| February | 10:00 am-4:00 pm |
| March | 9:00-5:00 pm until Daylight savings time then 9:00am-7pm |
| April | 8:00 am-7:00 pm |
| May | 8:00 am-8:30 pm |
| June | 8:00 am-8:30 pm |
| July | 8:00 am-8:30 pm |
| August | 8:00 am-8:30 pm |
| September | 8:00 am-7:30 pm |
| October | 9:00 am-6:00 pm |
| November | 10:00 am-4:30 pm |
| December | 10:00 am-4:30 pm |