2022  Summer Activity Program
Theme for 2022 "Adventure Land" 
We are pleased to let you know that we are planning to offer the Summer Activity program this summer!
This is a quality supervised activity program for children ages 6-12
All COVID 19 safety precautions and procedures will be followed as mandated by the state of Virginia.
The program will begin the Monday following the last day of Galax City Schools and operate through Friday July 29, 2022.
Monday through Friday from 8am until 5:30 pm
Program Prices
One child: $100.00 per week   Two children living in the same household: $180.00   Three children living in the same household: $270.00 per week
Registration Dates:
Feb. 28- Mar. 6: Registration for ONLY current ASAP children
Mar. 7-13: Registration for City Employee & City Residents
Mar. 14: Open Registration
Registration spaces will be given on a first come first serve basis ONLY  To register you must see the front desk and pay the one week's fee, which will be nonrefundable.
Keep in mind that spaces are very limited to insure the safety of children and staff.
---
NEW PROGRAM FOR ALL AGES
Call for more info. 276-236-3218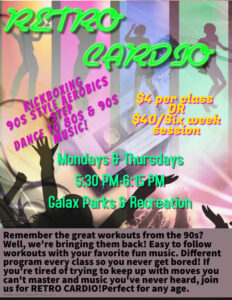 ---
GALAX OUTDOOR POOL WILL OPEN June 1st at 12pm
We have a great addition to our pool this summer that is currently under construction. We have added a 2 tube water slide that was made available through a grant with the TCCF Foundation.
Admission will be $5.00 for everyone 5 and over and $1.00 for children under 5 years old. Lap swim will be $2.00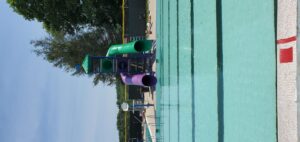 ---
---
SWVA YOUTH BASEBALL AND SOFTBALL LEAGUE
Registration: February 14th – March 14th, 2022
Register at the Galax Recreation Center
Cost: $30.00
Boys leagues: 3rd-5th grade &  6th-7th grade
Girls leagues: 3rd-5th grade & 6th-8th grade
---
T-BALL AND COACH-PITCH BASEBALL
Registration: March 28th – April 25th, 2022
Register at the Galax Recreation Center
Cost: $30.00
T-Ball ages for boy and girls: 4 & 5
Coach-Pitch ages for boys and girls: 6 & 7
---
MEN'S ADULT OUTDOOR SOCCER
Registration: February 28th – March 28th, 2022
Register your team at the Galax Recreation Center
Cost: $225 per team   – Must be 18 years old or older to play
---
YOUTH SANDLOT FOOTBALL
Registration:  July 11th – August 5th, 2022 
Register at the Galax Recreation Center
Cost: $30.00   – Boys & girls in 3rd & 4th grade and 5th & 6th grade
---
YOUTH FLAG FOOTBALL
Registration:  July 11th – August 5th, 2022 
Register at the Galax Recreation Center
Cost: $30.00   – Boys & girls in 1st & 2nd grade
---
YOUTH CHEERLEADING
Registration:  July 11th – August 5th, 2022 
Register at the Galax Recreation Center
Cost: $30.00   
-3rd & 4th grades are limited to first 15 to register
-5th & 6th grades are limited to first 15 to register
---
YOUTH SOCCER
Registration:  July 11th – August 5th
Register at the Galax Recreation Center
Cost: $30.00   
-7 & Under: ages 5, 6, & 7   
-10 & Under: ages 8, 9, & 10 
-13 & Under: ages 11, 12, & 13
---
YOUTH BASKETBALL
Registration: October 17th – November 14th, 2022
Register at the Galax Recreation Center
Cost: $30.00
-7 & under: ages 5, 6, & 7   
-10 & under: ages 8, 9, & 10 
-13 & under: ages 11, 12, & 13
---
33 & OVER BASKETBALL LEAGUE
Registration: October 31st – November 14th, 2022
Register your team at the Galax Recreation Center
Cost: $300.00 per team   – Must be 33 years old or older to play
---
MEN'S ADULT FUTSAL
Registration: January 2nd – 30th, 2023
Register your team at the Galax Recreation Center
Cost: $225 per team   – Must be 18 years old or older to play
---
SWIMMING LESSONS – LIFEGUARDING CLASS – WATER AEROBICS
Lifeguard Class Cost $ 200.00
Must be age 15 by May 7, 2022
May 5, 6, 7
---
Adult Lessons 6:15 – 7:00 pm 
May 23, 24, 25, 26, 27
May 30, 31, June 1, 2, 3
---
Summer Swim Schedule Lessons
Monday and Wednesday
June 13 – July 18 (No Class on July 4)
Level 3 4:00 pm to 4:45 pm Limit 12
Level 2 6:00 pm to 6:45 pm Limit 12
Level 1 7:00 pm to 7:45 pm Limit 12
Tuesday and Thursday
June 14 – July 19 (No Class July 5)
Level 1 4:00 pm to 4:45 pm limit 12
Level 2 5:00 pm to 5:45 pm limit 12
Level 1 6:00 pm to 6:45 pm limit 12
Level 4 7:00 pm to 7:45 pm Limit 12
Monday and Wednesday
July 20 to August 29 (No Class Week of Aug 8-14)
Level 1 4:00 pm to 4:45 pm limit 12
Parent tot ages 18 months to 36 months 6:15 pm to 6:45 pm
Parent Pre School ages 36 Months and 48 Months 7:00 pm to 7:45 pm
Tuesday Thursday
July 21 to August 30 (No classes week of Aug 8-14)
Level 2 4:00 pm to 4:45 pm
Level 1 5:00 pm to 5:45 pm
Level 5 6:00 pm to 6:45 pm
Adults 7:00 pm to 7:45 pm
Maroon Tide Swim Team
May 31 – July 23
M-Th Practice
10 and U 6:15 pm -7:15 pm
11 – 18 7:15 pm – 8:15 pm
Meets are on some Tuesdays and Thursdays and Most Saturdays
Water Aerobic Schedule
Monday, Wednesday, Friday
7:30 – 8:15 am Water Aerobics
8:30 – 9:15 am Water Aerobics
9:30 – 10:15 am Water Aerobics
10:30 – 11:15 am Arthritis Aerobics
11:30 am – 12:15 pm Arthritis Aerobics
12:30 – 1:15 pm Water Aerobics
5:00 – 5:45 pm Water Aerobics
Current Lap Swim Hours Indoor Pool
Now until May 27
Monday 1:30 – 2:30pm
Wednesday 1:30 – 2:30pm
Friday 1:30 – 2:30pm
Saturday 10:00 – 11:30am
Sunday 1:00 – 2:30pm